Are you getting into the whole dubstep scene and find yourself a little lost when it comes to finding quality tuneage? Well this blog should give you 5 starting points from which you can go exploring into several totally radical unnecessarily bass-heavy heavens!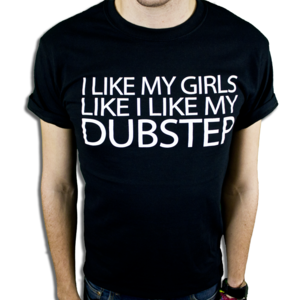 BTW – you can get this T-Shirt here.
Here are boyinaband.com's top 5 dubstep artists to check out if you are new to the scene…
Warning: This is an old list – I made a mix for the best dubstep producers of 2012 in the following video if you want the up to date version!:
Links to the producers in the video:
Check out Malleus: http://www.youtube.com/user/MalleusDUB
Check out Mizuki's Last Chance: http://www.youtube.com/user/MizukisLastChance
Check out Dorincourt: http://www.youtube.com/user/ODSTHelljumper
Check out Klaypex: http://www.youtube.com/user/Klaypex
Check out Noisestorm: http://www.youtube.com/user/EoinOBroinMusic
And the top 5 for 2009 was…
5) Skream
Dark. Very dark. Skream has mastered the art of making music that is the audible equivalent of an innocent child walking through a tunnel full of hellish monsters that look on curiously. Listen to this track if you don't believe me, which also has a surreal as hell video:
Skream – "Superfly"
Grab Skream's album here:
4) Benga
Benga's tunes make me think of things people who just had massive speakers installed in their pimped out cars would cruise to. A kind of hip hop vibe lies just behind the dirty dub. Also prone to stupidly heavy synths (Check out the track "The Cut" O_O). But for this video I picked a nice low-rider-friendly tune…
Benga – "Evolution"
Grab Benga's album here:
Diary of An Afro Warrior
3) The Widdler
Minimalistic, Dark Dub from straight outta New Jersey. Looks like he uses Reason for his production too – so instant cool points there. So offbeat it hurts – it's almost almost trip hoppy. Check out this tune which samples "The Shining"
The Widdler – "Red Rum"
2) Rusko
Rusko is FUN. He has a tendancy to give his tracks a brilliant bounciness that you don't get from the darker dub. Don't get me wrong though, his tunes are still gritty and disgusting – just in a way that makes you want to nod your head with a smile like you just ate a lemon, but also got given a hundred quid for doing so.
Rusko – "Woo Boost"
Grab Fabriclive.37 Caspa and Rusko's Mix Album here:
1) Chase and Status
The closest thing you'll find to mainstream dubstep; this is dubstep from a DnB producer's perspective. Think Pendulum-quality production on some seriously dirty tunes. They've taken the first step to getting the genre some serious attention by collaborating with Snoop Dogg on the track "Snoop Dogg Millionaire" (He's nothing if not subtle, that Cordozar (That's Snoop's real name, btw.)) It's a pretty cool track, not sure if I prefer the original track "Eastern Jam", though. Check 'em both out:
Chase and Status & Snoop Dogg: Snoop Dogg Millionaire
Chase and Status: Eastern Jam
Grab Chase and Status' Album here:
So there you have it – boyinaband's top 5 Dubstep artists.
Do you want to learn how to make your own tunes?   Watch my 7 Day Song Dubstep Tutorial and maybe you'll be next on the list!
Do you know of any that should have been in the top 5?   Share them with us in a comment below!
Related Posts...