http://soundcloud.com/everyonelovesrobots/skyline-homemade-explosive
Here is my entry for the Composition Competition~
I thought I'd tackle doing an Industrial/Metal remix to broaden my skills with mixing and creating different varieties of musical genres. (That and everyone is mostly doing DnB, Dubstep and Electro House and I'm not that proficient in any of those genres
)
Cause lord knows I ain't making another Crunk track like the previous Composition Competition >_<

Tutorial:
This tutorial shows how I made the layered Acid/Techno bass in several simple steps
(Note: I used the 8bit/Chiptune VST known as the Magical8, This isn't vitally important so feel free to experiment with something else
)
(Note 2: This was made on Logic Express 9 software but feel free to try similar ideas out on Reason/Cubase/Sonar/Pro Tools/etc)
STEP 1: Bass 1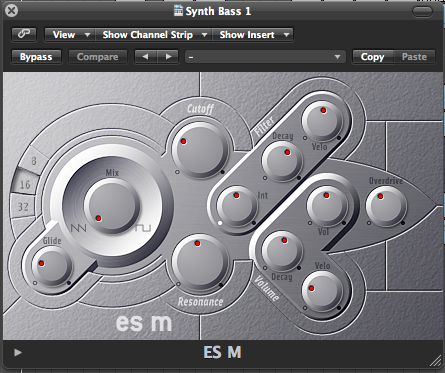 The primary construction of this bass synth sound was using 3 separate bass layers blended together and then modulated to create a new, thicker sound, and rather than slave for hours making 3 completely different patches to blend, time was saved simply by taking presets and tweaking them to suit the needs of the track.
The first bass patch I used is the "Warm Acid Bass" from Logic's patch bank. This bass is primarily for the Low end of the bass synthesizer sound, however, the resonant frequency displayed on the ESM synthesiser was a bit to high, making the bass notes almost inaudible (which for the purpose of the track I made was not wanted). So dial back the Resonance and Cut Off frequencies displayed to taste (as a chef would say)
In this case, I've just moved the Resonance to just under half, and the Cut Off leaning more to the Quarter end.
Also feel free to take off the preset plug-ins on this synth or the following synthesizer if you wish. I didn't
STEP 2: Bass 2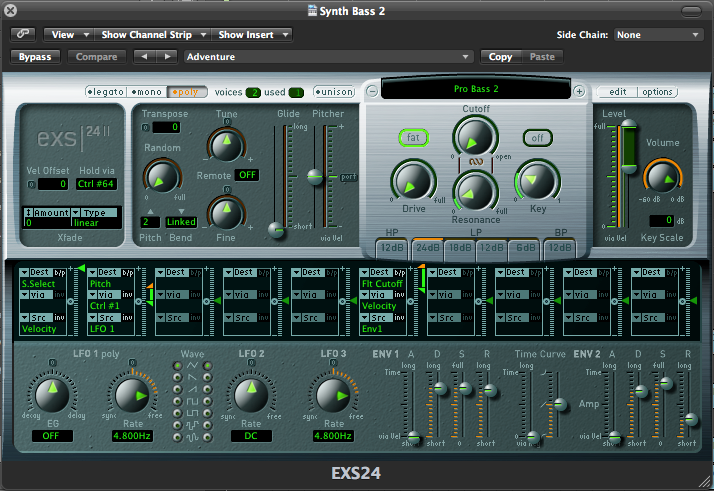 With the low end taken care of, it's time for a nice bass to tackle the mid frequencies. The "Deep Fried Bass" patch is perfect for this. There's not much to do in the ways of tweaking.
I amended the ADSR once I had input the notes for the synthesizer (Note: Image shown is the amended synth post note input)
STEP 3: Bass 3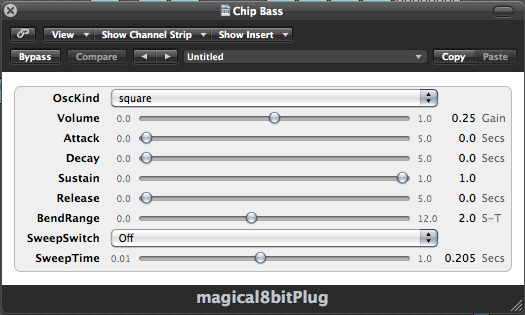 (Note: If you don't have a copy of Magical8, don't worry, it's free to download, or feel free to experiment with a different bass sound for this part)
The 8bit/Chiptun-y sound that Magical8 provides is authentic to the key. Creating new sounds and replicating classic sounds on this software is so much fun, and the raw bitcrushed waveform sound is perfect for the higher-mids to the layer
Now, it is possible to save patches for this VST, however it does not come with presets, so for this we get to play around with it to see what works with the previous two layers (squeaks like a child being taken to McDonalds/Disney Land for the first time...What? Just me?)
The Square wave is perfect for recreating classic 8bit bass noises, so I'm going to roll with that one.
Don't use the sweepswitch for this. Or it'll totally muck up your sound (It creates an auto bend up to the highest octave range the VST has [12] However it's possible to use the pitch bend wheel on your keyboard or Hyperdraw automation to bend them higher/lower)
So leaving the sweepswitch off, feel free to tamper with the settings to get a bass sound that you think works. I went with a simple short, punchy sounding bass that was reminiscent of the bass sound in World 1-1 of Super Mario Bros.
STEP 4: Blending
Blending the tracks together is crucial to the track depending if you are also using a live recorded bass guitar (Like I did). It can be less of a hassle if you aren't, but if you are, blend the two together over the beat to get an idea of how it will work together and if having both types of bass' in play is suitable for your track. The volume levels shown is the balance I went with so that each different layer was heard. I kept the volumes low for the next stage, which is putting them together into an Aux track for further tempering)
I'll explain why the 8bit bass is panned a little bit in Step 7.
(Note: If you've deleted the Plug-ins found on the first two bass patches, don't fret. It means you have more headroom than I did when it comes to doing the last few steps)
STEP 5: Compression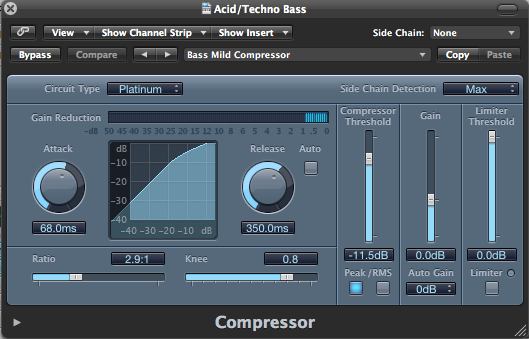 To give the now quiet Aux track a boost, A simple bass compression for a bass guitar would do the trick in managing the layers effectively. I experimented with the threshold and knee and found the settings shown were appropriate to avoid the "fwp fwp fwp" sound that over-compressed sounds exhibit (Wait..is it Whoosh whoosh whoosh? cause fwp fwp fwp sounds completely wrong...)
STEP 6: EQ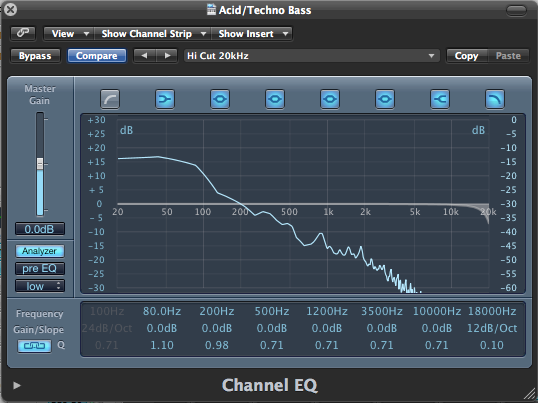 For EQ I went to use it sparingly, the presets plugins didn't have any settings on them, so rather than tamper with the sound I had put together, I gave it a simple 20kHz cut and ran it through the Spectrum Analyser (Yes I know I spelt it with an S, but I'm English sooooo
)
STEP 7: Sample Delay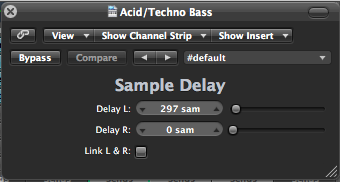 To really broaden the stereo field, a smidge of sample delay is always a nice touch I've found.
Now to explain why the 8bit bass is panned a teensy bit to the left. When I used this setting for the sample delay, the bass was a bit to far out on my right for my liking, so I brought it back in a little bit until it sat comfortably in my ears.
Adjust to your liking~
STEP 8: Reverb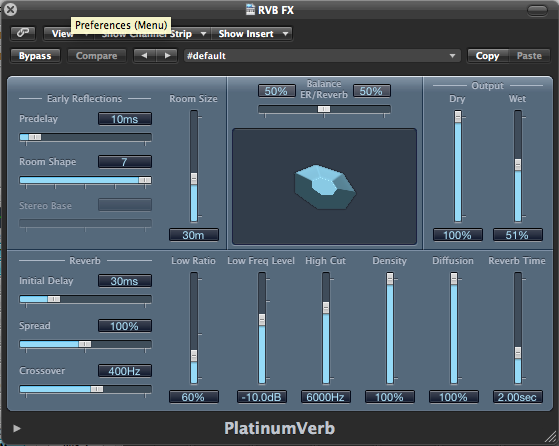 If you made it this far. Congrats, we're on the last step (I'd reward you with a brand new car, but I haven't got the criminal skills of the guys out of "Gone In Sixty Seconds" so unfortunately no automobile for you
)
The reverb I added was used on a separate Aux track so I could dial it in on other tracks at whim.
I went with a contained ambiance kind of reverb, I experimented with delay time and found anything higher than 2 seconds for this track created unwanted delay.
However, turning up the diffusion and density allowed unwanted clicks and pops from instruments using this reverb type to be avoided (I've found it to be a problem in the past and realised this was a good way to solve that.)
Congratulations, if you either A: Followed my tutorial to the letter and images or B: Piddled about tweaking stuff wildly like I kept suggesting - You should now have a really awesome bass sound tailored to your specifications. Bonus points if you went and made a cup of tea mid-read of this tutorial